Spring Farm Tour
May 19-20, 2018
 10 a.m. – 4 p.m.
                       This is a rain or shine event!                  
See the participants on this year's Spring Farm Tour in the interactive map below or click here to download a PDF of the brochure. *Please note: Donkey Meadows will be CLOSED for farm tour due to a farm emergency. 
Copies of the brochure will be available locally at all Loudoun County libraries, community centers, Visit Loudoun and the Government Center in Leesburg.
Spend a weekend in the country visiting Loudoun County farms. The twice-annual Loudoun Farm Tours attract thousands of visitors from across the country to the beautiful Loudoun Valleys, with views of the Blue Ridge and Short Hill mountains all just minutes west of Washington-Dulles International Airport.
Visitors can enjoy free, self-guided driving tours to participating farms and craft beverage venues during these county-sponsored events. Both county-sponsored events are held annually in May and October.
Tour Schedules
The Spring Farm Tour, which serves as an introduction to Loudoun's growing season, is held annually the third weekend in May.
The Fall Farm Tour showcases the colors, people and products of the Loudoun Valleys and is held the third weekend in October.
The tours draw more than 9,000 visitors to Loudoun County and serve as a teaching mechanism to inform consumers of what products are grown and available locally.
Brochure Sign Up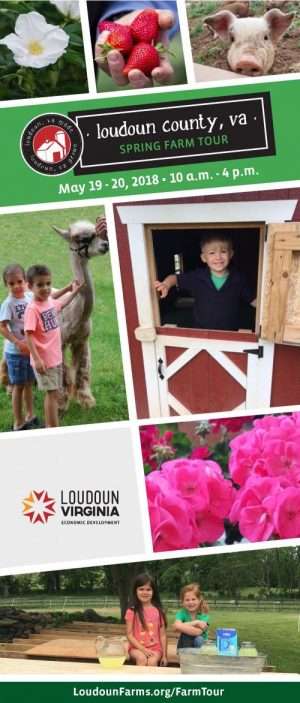 Distance Range Radius: KM