Rarely do you find a farming operation as unique as the one that Ramesh Seetaram and Melissa (Liz) Layng have at Northern Virginia Wholesale Growers (NVWG) in Paeonian Springs. Sitting on 34 lush acres of rolling green, NVWG has award-winning hanging baskets, tropical plants, and hundreds of flower varieties, along with Indian, African, Eastern Asian, and other types of produce available for pick-your-own shopping.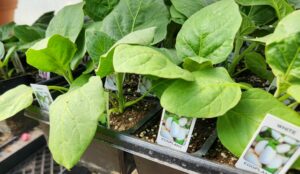 A native of Trinidad and Tobago, Ramesh came to the United States on holiday when he was 21 but prior to that, he was just an island boy growing up on his family's farm.
"I farmed for as long as I can remember," said Ramesh. "We have 40 acres of farmland that was worked by four generations. My great-grandparents were enslaved when they were brought from India to Trinidad. When slavery was abolished, they received land through reparations. We grew cocoa, coffee, bananas, oranges, grapefruit, pineapples, and mangoes."
The son of a farmer, Ramesh laughed as he recalled helping his parents with the cocoa crops by "dancing the cocoa." In this traditional way of processing cocoa beans, they use their bare feet to stomp the beans to dry and polish them. They are then taken to market to weigh and sell. The subtle methods of traditional farming are pieces that he brings from Trinidad to Loudoun that lend to his organic farming techniques because NVWG is full of surprises.
"Irrigation?" was Ramesh's response to a question about watering the crops. "I pray for rain! I mean, we have a stream that runs around the farm, and we think that helps to keep the ground watered but other than that, we do it the natural way," he continued. "We don't spray or use fertilizer."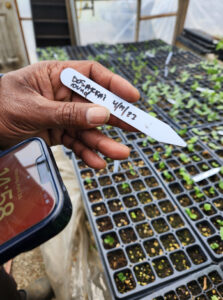 Ramesh loves to grow different crops and often asks customers what they need. A transplant himself, he enjoys helping customers of various cultures remember what home tastes like. He grows produce that may be hard to find including gongura, sorrel, dosakai cucumbers, six types of eggplants, moringa drumsticks, and many other vegetables and plants that are native to other parts of the world.
"More people should ask their farmers to grow certain things. That's how I started doing my vegetables," he reflected. "If one customer talks to friends and family then demand grows by word of mouth."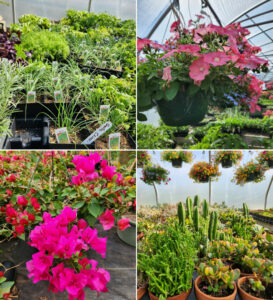 NVWG also has rows upon rows of efflorescent, colorful, and aromatic flowers, plants, and herbs growing in their three large greenhouses—a botanic utopia that can leave anyone in awe. The hanging baskets boast every color in the rainbow, the verdant cacti and succulents look freshly plucked from the earth, and the tropical flowers and plants are just as bright and exotic as you might imagine. The numerous varieties of seasonal and perennial bedding plants, flowers, and vegetables are always in high demand. Many of the flowers are sold wholesale and they even participate in flower shows here in Virginia as well as in several other states.
Ramesh and Liz also remain committed to the community. Over the past several years, they have donated thousands of pounds of fresh produce to local food pantries and organizations to help feed those in need and fight food insecurity and hunger. Ramesh reflected on the importance of giving back to the community.
"It's gratifying," he said. "People appreciate what you do. Farming is hard but you have to do more and just keep doing. As you get older, you see the world in a different way. Helping and feeding people is important. The kids from InMed planted the cabbage and broccoli and after we harvested, we just gave it to them."
Northern Virginia Wholesale Growers is a staple in Loudoun. Their farm market store is open during growing season, but Ramesh and Liz always welcome the community to the farm. Offering activities and amenities like volleyball, cornhole, soccer, picnic tables, and tents, they want people to just come and enjoy the outdoors.
Learn more about NVWG including online ordering and community-supported agriculture (CSA) by visiting https://nvwgrowers.com.