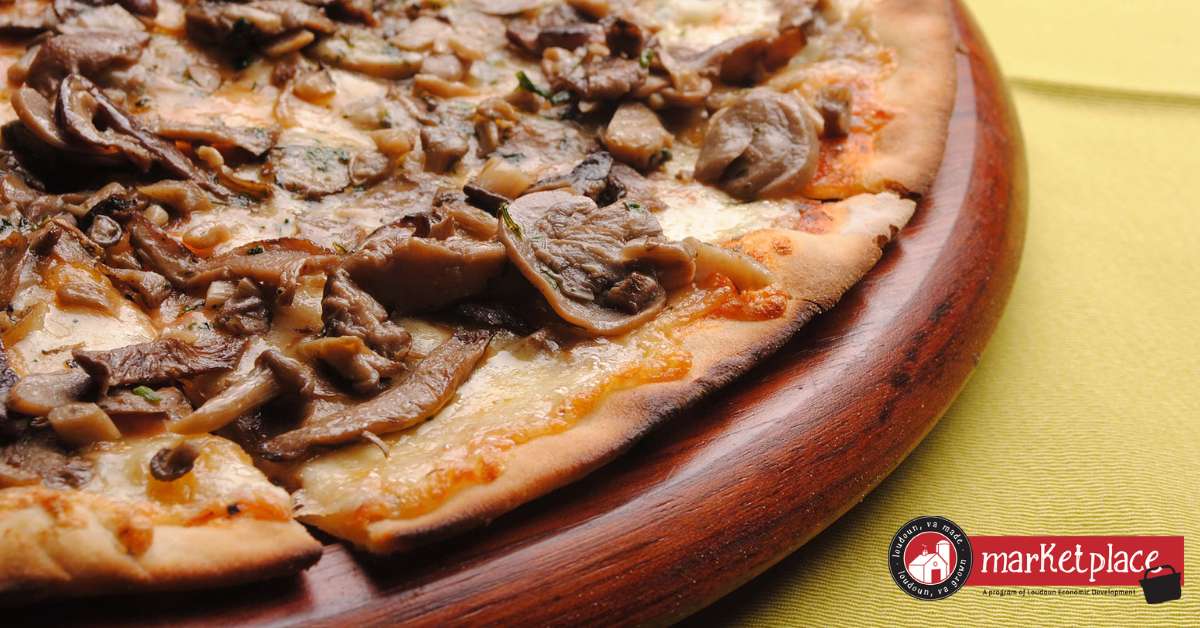 Marketplace Caramelized Mushroom Flatbread
Whether you're looking for a vegetarian option or simply shaking up your household menu, mushrooms are an excellent ingredient to have on hand.
Made up of 90% water and a better source of potassium than a banana, different mushrooms have been found to have anti-inflammatory and antioxidant qualities. When used to diversify your diet, mushrooms have been found to help reduce blood pressure, moderate blood sugar, reduce cholesterol, enhance the immune system, reduce stress and help in fighting many types of cancer.
The world over, there are more than 10,000 species of known mushrooms with more people identified every day. Of those, only about 4% are poisonous or hallucinogenic, and none of those will end up on your plate when sourced from a Loudoun farm.
Ready to try some in your cooking? Put the "fun" back in fungus with this tasty treat:
Course: Main course
Prep Time: 20 minutes
Cook Time: 30 minutes
Serves: 2-3
Ingredients:
1/2 pound pizza dough, at room temperature at least 1 hour
1/2 pound mushrooms of your choice:
1 cup shredded cheese of your choice:
2 cloves garlic
2 tablespoons olive oil
Recommended:

1/4 teaspoon salt
1/4 teaspoon black pepper
1 teaspoon fresh thyme leaves
2 tablespoons chopped fresh parsley leaves, divided
Directions:
Place a heavy, rimmed baking sheet upside down on the rack, and heat the oven to 450°F. Cooking with the pan upside-down will ensure that the dough cooks to a crispy brown throughout.
Heat the olive oil in a large skillet over medium heat until shimmering. Add the mushrooms in a single layer and cook undisturbed until browned on the bottom, about 5 minutes. Season with salt, pepper, garlic and thyme, and cook until the mushrooms are browned all over and tender, 2 to 3 minutes more.
Spread the dough into a 10-inch round on parchment paper and dust with all-purpose flour or cornmeal.
Brush the dough with olive oil, then scatter the mushroom mixture onto the dough, leaving a 1/2-inch border. Sprinkle with the shredded cheese. Carefully remove the preheated baking sheet from the oven and use the parchment paper to slide the flatbread directly onto the back of the baking sheet.
Bake until the edges are golden-brown and crisp and the cheese is melted, 10 to 12 minutes. Add fresh parsley to the finished flatbread. Enjoy!