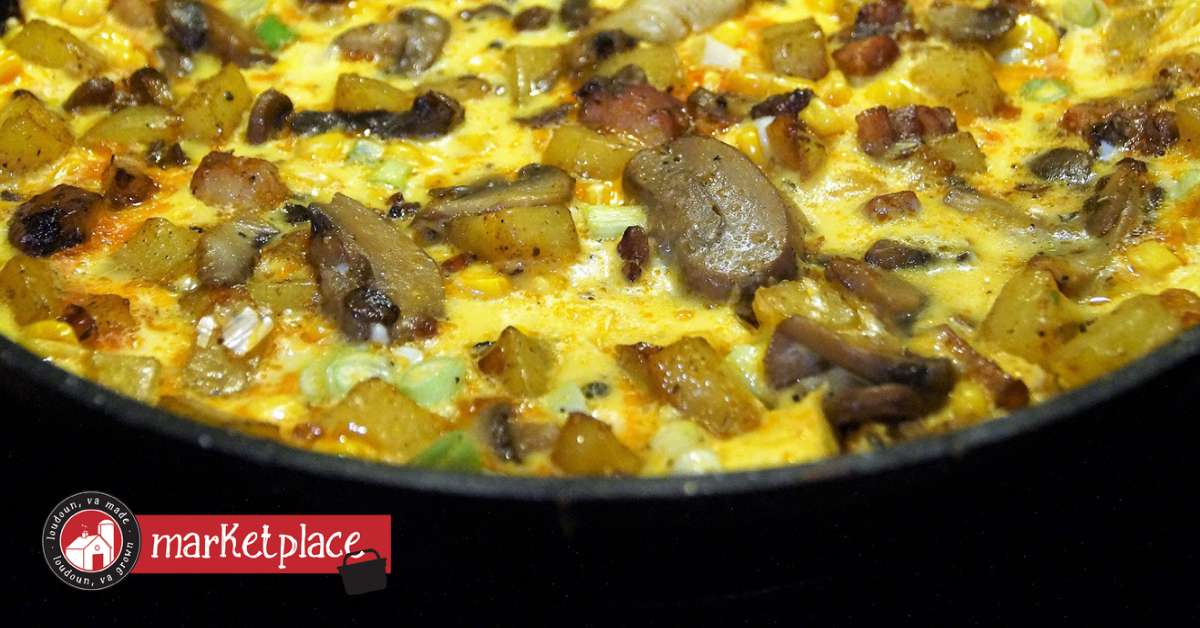 Loudoun Valley Breakfast Omelette
In Loudoun County, you can have the best of all worlds, but that starts with a well-balanced breakfast. The American Heart Association notes that eating 12 eggs per week, while a source of dietary cholesterol, had no negative impact on cardiovascular health. Maybe don't eat all 12 at once, but you might be tempted to with this recipe!
One of the best parts of the Loudoun Made Loudoun Grown Marketplace is the choices you can make. At least three farms (Homestead 1870, SunPower Farm and Kathy Ann's Farm) sell eggs, including chicken, duck, goose and quail eggs. Each egg type comes with their pros and cons, but when combined with fresh meats and produce, you never have to have the same omelet twice.
Grab your largest skillet and let's get to work!
Course: Main Dish
Prep Time: 40 minutes
Cook Time: 15 minutes
Serves: 3-5
Ingredients:
Pro Side Dishes:
Directions:
Warm your skillet to medium heat with the cooking oil of your choice. Add the peppers, onions and mushrooms. Sautee until soft then place in a bowl.
Re-oil the pan and crack all eggs into a separate bowl. Wisk until fully scrambled, then pour into the pan and let cook.
Once the cooked side of the omelet becomes firm, flip carefully to the other. If the skillet is large and the omelet is thin, skip this step.
Add cheese to your liking, then pour sauteed vegetables and freshly chopped tomato on top of the omelet.
Fold in half to trap in toppings to cook together. Reduce heat on the pan.
Once the cheese begins to melt, flip the omelet to the other side and let fully cook.
Once cooked to your satisfaction, serve and enjoy!