Unusual Inspiration for Double 8 Alpaca Ranch
Like most people who start an alpaca ranch, Doug Kittrell was inspired by a call to the plumber.
Wait, what?
In the early 2000s, Doug and Bonnie Kittrell were living in New Jersey. They needed plumbing work done and got a bid back from a plumber with an alpaca logo, which provided an opportunity for small talk. A few weeks later, Doug saw a TV commercial advertising for alpacas, and the idea for a business was born.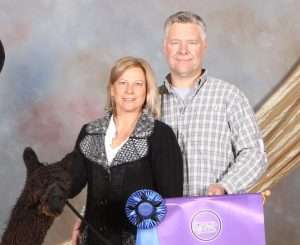 He did lots of research, learning everything there was to know about the domesticated South American camelid, which adapts very well to the climate of the mid-Atlantic. Known for their wooly fleece and docile demeanor, alpacas can be kept as pets or scaled into a full farming operation. The average alpaca produces five pounds of blanket fleece each year for up to 20 years, which can be sold as raw fleece, spun fibers or finished products.
Doug and Bonnie visited a number of alpaca farms, and in 2005, bought their first herd before moving to Loudoun County, Virginia. Double 8 Alpaca Ranch was born.
Despite being first-time farmers, the Kittrells learned quickly. Bonnie, who had previously been a teacher, became a full-time alpaca herder and put her educator resources into launching the Loudoun County 4-H Alpaca Club.
"Loudoun families with children ages 8-19 are welcome to come to the farm to learn about farming and are offered a free-leased alpaca to show at county and state farm shows. The farm supplies the feed, bedding, stalling, and transportation to and from these shows for the club members," Bonnie explained. "The 4-H youth get to learn on our farm how to care for, train, and show alpacas and/or llamas.
"We believe that a nutritionally sound and well-trained alpaca is a happy and healthy alpaca."
Shopping Double 8 Alpaca Ranch on the Loudoun Made Loudoun Grown Marketplace
The Kittrells are also active vendors on the Loudoun Made Loudoun Grown Marketplace, selling a broad range of products that are perfect for cold weather wear and gifts, including:
The Kittrells harvest the fleece and either mill or hand process it there at the farm. Alpaca fleece is similar to sheep wool without lanolin, so it doesn't need to be scoured and is naturally hypoallergenic. The end product also tends to be lighter weight and warmer than sheep wool.
"You've got to feel wool to know what it really is and to understand that it's not the same stuff you'd feel at stores," Doug told Lancaster Farming in a March 2021 interview. "Wool is an amazing product, and natural fibers are incredible. They have the ability to keep you warm when it's cold out, and they help you stay cool in warmer temperatures. It's like magic."
COVID-19 and Double 8 Alpaca Ranch's Pivot to Virtual
Like many Loudoun business owners, the Kittrells expected 2020 to be their best year ever. Between farmers markets and other direct-to-consumer sales, private farm tours, weddings and photoshoots, and the Double 8 alpaca breeding program, all business opportunities were looking up.
Then COVID-19 hit and the world shut down. Sales for quality, hand-crafted products will always suffer when customers can't touch and feel the difference. Events and weddings were delayed or canceled, and even breeding took on new logistical hurdles. Early in the pandemic, Double 8 had to furlough its farmhand and rethink the 4-H club.
But you don't start a successful alpaca ranch without a little creativity, and Double 8 Alpaca Ranch proved to be a resilient concept in any format.
During the school year, they conducted virtual farm visits with students across the U.S., even hosting Zoom tours from as far away as Arizona.
To re-engage the 4-H members, the Kittrells launched a "Friends of the Farm" alternative, offering each family one evening every other week to come to the farm for mental and physical health time. Instead of a commitment of two-to-three hours per week, Doug and Bonnie were now committing two-to-three hours per day, up to four days per week.
But it was all worth it.
"This allowed for some normalcy among the children and the animals on the farm, bringing comfort and smiles to the kids and their parents," Bonnie said. "One-on-one instruction was given to the members using social distancing on the farm. This allowed the members to continue learning about farming and to get out of their homes for some safe fresh air on the farm while social distancing."
In June, they were awarded a grant from Loudoun's COVID-19 Business Interruption Fund, which helped cover operational expenses.
Visit Double 8 Alpacas on the Loudoun Fall Farm Tour
A regular for the Loudoun Spring and Fall Farm Tours, the Kittrells use it as an opportunity to spread the word about alpaca husbandry. According to the most recent USDA Agriculture Census, Loudoun leads all Virginia jurisdictions in alpacas and llamas. Double 8 is a big part of that success, and the Kittrells recently expanded their operations and moved the herd of 50 alpacas to a larger farm in Purcellville.
The new location offers an array of services, such as consulting with and mentoring new alpaca farmers, farm tours, weddings, birthdays, and educational events for local schools, 4-H and scouts. Even the German Consulate and several local veteran groups came to learn about farming alpacas and agritourism.
Looking for more of an experience? Double 8 Alpaca Ranch also offers private tours of the farm for $50 per hour and you can rent an alpaca to be part of your wedding or unique photoshoot. Besides alpacas, the farm is filled with horses, chickens and dogs, all ready to provide a one-of-a-kind experience.
"When I see people's faces, they're looking at the animals and feeling connected to the world they live in or a world they wished they lived in," he said. "To have something made from those animals, it just makes people feel good—they've got a product that feels good and feels good emotionally."