Here at the Loudoun Farms office in the Loudoun Department of Economic Development, we get to work on all kinds of fun projects throughout the year. From educational opportunities for agricultural business personnel to promotional programs like the spring and fall Farm tours and the Loudoun Made Loudoun Grown branding program. We are passionate about them all!
This summer we are participating as a sponsor at two fun events that offer something for everyone! On July 21st we will be sponsoring the VIP area at the Purcellville Wine and Food Festival.   This event is perfect for anyone who loves wine, beer, food, art and music. There are usually about 15 wineries sampling wines, a corn hole tournament, shopping, live music from local musicians and great food from at least 10 local eateries. When we sponsor the VIP section we work with our local producers to provide VIP ticket holders with wonderful Loudoun Made Loudoun grown products as part of their VIP experience. Of course, all of the wines in the package are Loudun Wines and in the past, we have provided things like baguettes from The Baekehaus , creamy delicious cheese from Catoctin Creamery, flowers from Firefly Flower Farm and more. We hope to give VIPs a great spread and many extras this year as well! Until June 30 you can get early bird priced VIP packages for $250. What a great value at just a little over $40 per person! This includes reserved seating for 6, 6 tasting glasses, 12 tasting tickets, one-hour early entry beginning at 1 p.m. and 3 bottles of wine! If you wait until July 1st prices increase to $275 for the package.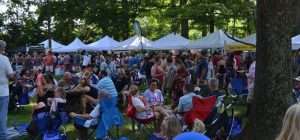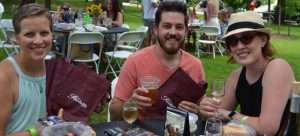 They also have regular adult entry tickets on sale for $20 until June 30 going up to $30 on July 1st and $5 tickets for designated drivers and people ages 16 – 20.
On July 28th we will sponsor Polo in the Park at Morven Park and give out awesome picnic bags with the Made in Loudoun Grown in Loudoun Logo on them. Our goal in this office is to make sure everyone in  Loudoun County know what that logo looks like. The Loudounfarms.org website has a directory of all of the businesses that make things or grow things in Loudoun. They make up the participants in the Loudoun Made Loudoun Grown program.
Some of those participants are sponsors at Polo in the Park. For instance, if you are hungry or thirsty while watching polo you can purchase Loudoun wine by the glass or the bottle from the Official Wine sponsor of Polo in the Park, Stone Tower Winery and fill your belly with terrific pulled pork or burgers from Roots 657. There will be other Loudoun Made, Loudoun Grown options to try through the season. Entrance is admitted by vehicle and there are several options; general admission ($35 advance and $40 at the gate) to VIP tailgate passes or season passes. Polo in the park begins Saturday, June 30 and takes place each Saturday through August 18. Gates open at 6 p.m. and there are two matches each evening. The first match begins at 7 p.m. and the second one starts at 8:30 p.m. For more information contact polo@morvenpark.org